If you had told me a year ago that I would be able to not only succeed in my SPM examinations but also become a PNB scholar, I wouldn't have believed you. And as I'm writing this, I'm still in disbelief.
To become a recipient of the PNB Global Scholarship Award is an honour that only a selected few would be able to experience. That being said, I'm writing this article in hopes that I would be able to help you in your journey to becoming a PNB scholar and receive the same honour as well.
Before you continue reading, I just want to state a disclaimer that this article was largely based on my experience applying in the year 2021 and there might be slight variation with what you would go through.
Without further ado, let's begin our deep dive into the PNB Global Scholarship Award!
What is PNB?
Permodalan Nasional Berhad (PNB) is one of the largest fund management companies in Malaysia with assets under management (AUM) exceeding RM300 billion. PNB's portfolio covers strategic investments in Malaysia's leading corporates, global equities, private investments and real estate.
PNB's vision is to become a distinctive world-class investment house and its mission is to enhance the economic wealth of the Bumiputera community and all Malaysians, for the prosperity of the nation.
In order to fulfil this mission, a number of ongoing initiatives are undertaken such as encouraging Malaysians to generate wealth by investing in Amanah Saham Nasional Berhad (ASNB)'s unit trust funds and under its corporate social responsibility (CSR) wing, it has sponsored thousands of students through its scholarship programmes and Insya-Allah, you'll be one of them too!
Why become a PNB scholar?
As a PNB scholar, you'll receive the following perks:
1. World Class Education

Scholars will be able to study at Kolej Yayasan UEM, one of Malaysia's best A-Level colleges, and then pursue an undergraduate degree at a top university in the United Kingdom, United States or Australia.



2. Scholar Support

Scholars will be able to receive various forms of support such as allowances (e.g., books, laptop, monthly), care and attention from supporting staff of the Education Department and university application preparation classes with AXIOM Learning.



3. Courses

With the exception of Medicine, Pharmacy and Dentistry, scholars will be able to pursue any course as long as it relates to PNB's core investments.

The table below lists some, but not all, of the approved courses.



It is important to note that all scholars, irrespective of their chosen course, will initially serve the bond period as an investment analyst.



4. Bright Career Prospects

After completing their studies, scholars will be able to benefit from job security as they will be bonded with PNB for at least 8 years. During the span of this period, scholars will acquire the skills of an investment analyst while also specialising in their chosen fields of study.
I hope that I've managed to convince you but even if you're not, there are plenty more perks to look out for!
How to become a PNB scholar?
The application process consists of four stages and in order to participate in the first stage, applicants will be required to fulfil some requirements.
From the academic aspect, applicants are required to obtain a minimum of 8As (A+ and A only) in their SPM examinations together with a minimum grade of 2A in English 1119 GCE-O paper (which is equivalent to B2 in the CEFR grading system).
From the personality aspect, applicants are also expected to have been active in co-curricular and sports activities. Additionally, they are expected to be team players and possess good leadership qualities and communication skills.
Last but not least, only individuals who have not exceeded 19 years of age are allowed to apply for this scholarship.
Do you meet the requirements? If so, let's continue forward!
Stage 1
To apply for the PNB Global Scholarship Award, applicants can complete the application form on www.pnb.com.my.
In this application form, applicants are required to fill up their personal information accurately as incomplete forms will be rejected straightaway. One of the most important details to fill up is the top three course choices in which you're interested to pursue and as mentioned earlier, it's wise to take the time and effort to ensure that the chosen courses not only relate to PNB's core investments but are the ones in which you're passionate about.
And as a new addition for applications starting from the year 2022, applicants are required to write an essay on an 'experience / situation during schooling / college that has the biggest impact on the candidate'.
Essay-writing can feel daunting even more so if the success of your application depends on it. Nonetheless, let's switch our perspective for a moment and realise that by writing an essay, we are able to convey certain information that wouldn't be possible nor done as effectively with a standard application. For instance, with a standard application, you could only state that you held the position as the school's Head Prefect, full stop. However, with an essay, you could express how this leadership role changed you for the better and this adds so much depth to your character in the eyes of the application officers.
Will the essay automatically guarantee you a spot in the next stage? No. But will it help your application? Yes, especially if it's written well.
And how exactly do you write a good essay? (1) self-reflect on the question, (2) respond to what the question wants, (3) send across a clear message, (4) share but don't boast about your achievements and (5) gain feedback from others.
Last but not least, there's also space added for applicants to share more information about their past academic achievements and personal skills related to software, computer and others such as graphic design and photo editing. Thus, make sure to list or write them down accordingly.
If you have any inquiries, feel free to shoot them an email! Though it is important to keep in mind that good email etiquette is expected at all times.
Once checked and settled, submit the form together with the required documents.
Stage 2
After just over a week since my application was submitted, I was informed through email that I was shortlisted to sit for the online Critical Reasoning Test Battery (CRTB) which consists of 3 assessments, namely:
1. Verbal Reasoning Test

For every question in this test, you are presented with a written passage and you are required to answer multiple-choice questions related to the information in that passage which is similar to the opening section of our SPM English Paper 2 (KBSM).

However, the questions were harder than the ones in SPM and you would have to analyse the passage carefully to answer correctly.



2. Numerical Test

For every question in this test, you are presented with facts and figures in the form of graphs and tables and you are required to answer multiple-choice questions which are similar to our SPM Mathematics Paper 1 (KBSM).

Once again, the questions were harder than the ones in SPM and you would have to analyse the graphs and tables carefully to answer accurately.



3. Inductive Reasoning Test

For every question in this test, you are presented with sets or series of shapes whereby the objective is to predict the next or missing figure. In simpler words, you are required to analyse the sets to find patterns.

The idea behind this test is to measure our ability to solve problems.
In preparation for the tests mentioned above, I did plenty of practice tests online (search on Google!) to prepare myself mentally for these questions and I would say that it had helped me tremendously to pass this stage. I would also advise conducting these tests in a calm and quiet environment for you to focus properly.
I have to admit that this stage was quite intimidating as you're going against so many intelligent candidates who are vying for increasingly limited spots to reach the next stage(s). Nonetheless, do not let this discourage you nor distract you from the fact that you have passed the first stage, and if you keep yourself level-headed throughout the trials and tribulations and believe in yourself , you will be able to succeed!
Stage 3
After not hearing from PNB for over two weeks, I finally received an email notifying me of an invitation to participate in the online Interview Session. Traditionally, the interview sessions would be held physically at Menara PNB but due to the COVID-19 pandemic, it was altered for my batch.
The Interview Session was conducted in groups of 4 and we were asked a mixture of personal and critical-thinking questions. Thankfully, my group was asked more personal questions such as "what are your passions?" and "how did you cope with the challenges of the COVID-19 pandemic?". However, we were also asked questions such as "how would your preferred field of study enable you to contribute to PNB's business?".
Therefore, it is crucial that you do research about PNB (e.g. reading its latest Annual Report) and find out how your preferred field of study would enable you to contribute to the investment house. There's also no harm in doing research regarding current issues such as the rising inflation in Malaysia as they might pose these questions and it's always a nice feeling to be ready. And in order to confront the more personal questions, self-reflection on one's values, experiences and achievements beforehand can go a long way in helping you answer well.
Most importantly, I would highly recommend you to conduct mock interviews with your parents, siblings or friends whereby you attempt to answer the questions frequently asked by interviewers. Although they are mock interviews, it is best that you treat them seriously so that you could simulate how things could go on D-day.
Stage 4
After just a week, I received a much-awaited email notifying me that I had successfully reached the final stage of the application process which consists of 3 components:
1. Occupational Personality Questionnaire (OPQ) Session

For every question in this questionnaire, you are presented with 3 statements and you are required to choose which statement reflects your personality the best.

The idea behind this test is to analyse our personalities and it is extremely important that you stay true to yourself and be consistent with your answers. If you're worried that you'll contradict yourself due to you not exactly knowing your personality, then I recommend that you carry out a few OPQs online on your own (which was what I did).



2. Group Presentation Session

Compared to the previous years, my batch's Group Presentation Session was conducted quite differently as we were not informed about the (1) format of this group presentation, (2) topics to research and (3) list of group members until the day of the presentation itself. This is in addition to the fact that this session was held virtually rather than physically due to the pandemic.

Fortunately, after analysing the email addresses of the recipients that received the email from PNB, I was able to spot that 2 of my interview partners, Hana and Damia, succeeded in getting into the final stage as well. Therefore, I took the opportunity to connect with them through email. I have to say that it's one of the best decisions I've made as we were able to prepare for the session together by exchanging messages on WhatsApp and even calling on Google Meet to discuss the potential topics beforehand.

And here, I just want to slip in a piece of advice that on this journey towards success, it can get quite lonely especially if you don't know anyone else who's on the same journey as you. Thus, be brave to reach out! And once you've found them, it's so crucial to work together as we're all on the same boat. So when we lift ourselves up, let's not forget to lift others around as well.

On the presentation day, we attended the briefing in the morning whereby they informed us that the presentation would be (1) in a debate format, (2) that the topics will only be informed 1 hour 30 minutes before a group's presentation and (3) our group members. As 50 applicants reached the final stage, PNB had to schedule the Group Presentation Sessions across 2 days with 25 applicants attending each day. 5 groups of 5 were to present on each day and had different time slots.

Thankfully, Hana and I ended up being part of the same group and since we were part of Group 5, we had a lot of time to not only prepare for the 4.00 PM presentation but also bond well with the other group members, namely Ashraf, Najhan and Aina.

To prepare ourselves for the debates, we took the time to share our knowledge of the topics we predict will come out and also held 2 practice debates namely about UNDI18 and Studying Overseas Vs Local.

At exactly 2.30 PM, we were informed that our debate topic was going to be "Change/Transform or be left behind/Change is the only constant in life". To be frank with all of you, we were so confused about how to interpret this sentence but after clarifying with the officer-in-charge, we basically had to propose or oppose the idea that "change is the only constant in life".

We delegated ourselves to the proposition group (Ilham, Ashraf), the opposition group (Aina, Najhan) and one of us became the moderator (Hana). As we had already practised beforehand, we were pretty comfortable with the roles that we were about to play, especially Hana who had already volunteered in wanting to become the moderator during the practice sessions.

While 90 minutes seem like a plentiful of time, time flew by quickly as we not only had to research the topic but also craft our speeches nicely. Additionally, we also had to do a simple Google Slides presentation to accompany our speeches.

Thankfully, we were able to perform well in our debate. Afterwards, we had to answer a few questions related to the topic as part of the Q&A session with the interviewers. Then, we had to finalise a few personal information for our applications.



3. 20-Second Individual Video

Last but not least, we were required to create a 20-second individual video about ourselves which we uploaded on Google Drive and optionally, on YouTube (e.g. https://youtu.be/LjzAByJS9ko).
Post-Stage 4
Not long after, on the 23rd of August 2021, I received the wonderful news that I was given the offer to become a recipient of the PNB Global Scholarship Award. As mentioned earlier in this article, I am still in disbelief but I am also extremely grateful to be able to become a PNB scholar.
However, the process of accepting the offer was not an easy one for me as I had already enrolled in another college to pursue Engineering under another scholarship programme. On the other hand, I applied to pursue Philosophy, Politics and Economics (PPE) under PNB.
Why did I apply for two different courses? Well, I was interested in both. And what I did to determine my preferred field of study was by taking the time to do research online, talking to people (e.g. family, friends) and reaching out to industry professionals (e.g. engineers, economists, policymakers) and those pursuing the field of study in university (e.g. Oxford University Malaysia Club, Cambridge University Malaysia Society).
And after a week of self-discovery, I found out that I was more interested and passionate to do Philosophy, Politics and Economics. And knowing that I would be able to apply the knowledge obtained through a guaranteed job at PNB in which I can contribute to nation-building, I see it as a win-win solution.
That being said, I would highly recommend that to any students interested to apply for scholarships in the future that you stick consistently to only one field of study. I was fortunate enough to decide between Engineering and PPE once I've gotten offers for both, but this is a very rare opportunity.
Reflections
Before I end, I just want to state that scholarships are very hard to get and I was rejected by many scholarship bodies; some even didn't let me pass the initial stage. Therefore, to those who aspire to become a scholar, you must be resilient enough to not give up and be brave enough to reach out to your family, friends, teachers and anyone you know for help. And to those folks who have helped me on this journey and are currently reading this, thank you from the bottom of my heart.
To those who are fortunate enough to become a scholar, appreciate this opportunity because this is not merely an award that recognises your past achievements nor does it already guarantee you a spot at Harvard. It is a mandate for you to continue your journey towards excellence and while I admit that things do get harder post-SPM, you're given the platform to excel and let's do our very best to not waste it.
Other than that, I also want to emphasise that scholarships are not the only way for you to succeed in life post-SPM as there are many people out there who succeed in life even without receiving one. Thus, do not be discouraged if you are not given the chance, and always strive to do your very best in all of your future undertakings.
Good luck and thank you!
---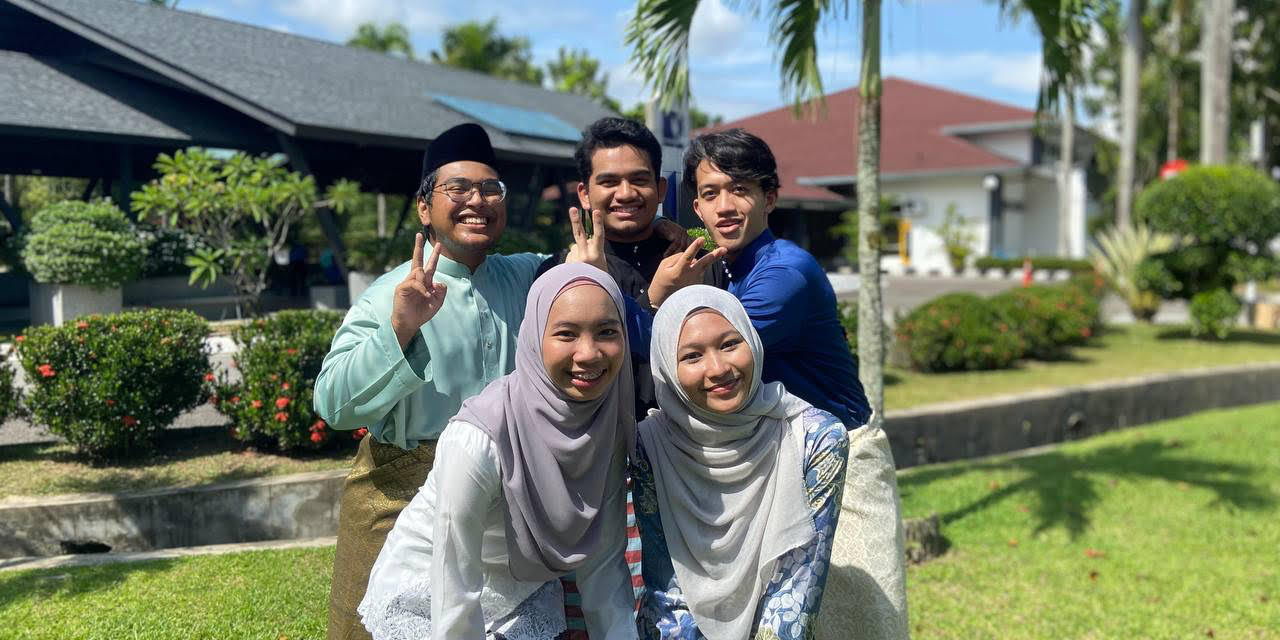 Celebrating the first Hari Raya Aidilfitri away from home with members of a newfound family (from left to right): Ilham, Hana, Najhan, Aina and Ashraf.